2. The brilliant game!
5. The animal roar
7. The celebration
10. His beautiful eyes
11. His humour and friendship with the other Serbian players
12. His graciousness in defeat.. Didnt want to put a pic for this one, it is not the time or place for a pic of Nole losing...
13. Nole and Jelena
14. The determination/desire to win (I love the "killer's eyes" in this photo)
15. His wonderful sense of humor
17.
His overwhelming passion for winning
18. His humility
21. Proving Lightning does strike twice in the same place - Flushing Meadows
22.
His love for his brothers (and his family in general)
23.
His love for his fans
24. His sportsmanship (he's always gracious both in victory and defeat, applauds his opponents great shots...)




25.
His humanitarian work (especially with/for kids in Serbia)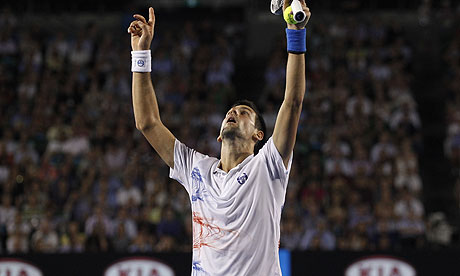 30.
He's one of a kind, a true (100%) original...I love him most for just being his wonerful self!!!
P.S. Thanks to Janet and Morelia from the "Nole forum" for helping me out a bit!